Coming soon …
a project in partnership with the Ketchum Urban Renewal Agency and the Idaho Transportation Department
Project Main Street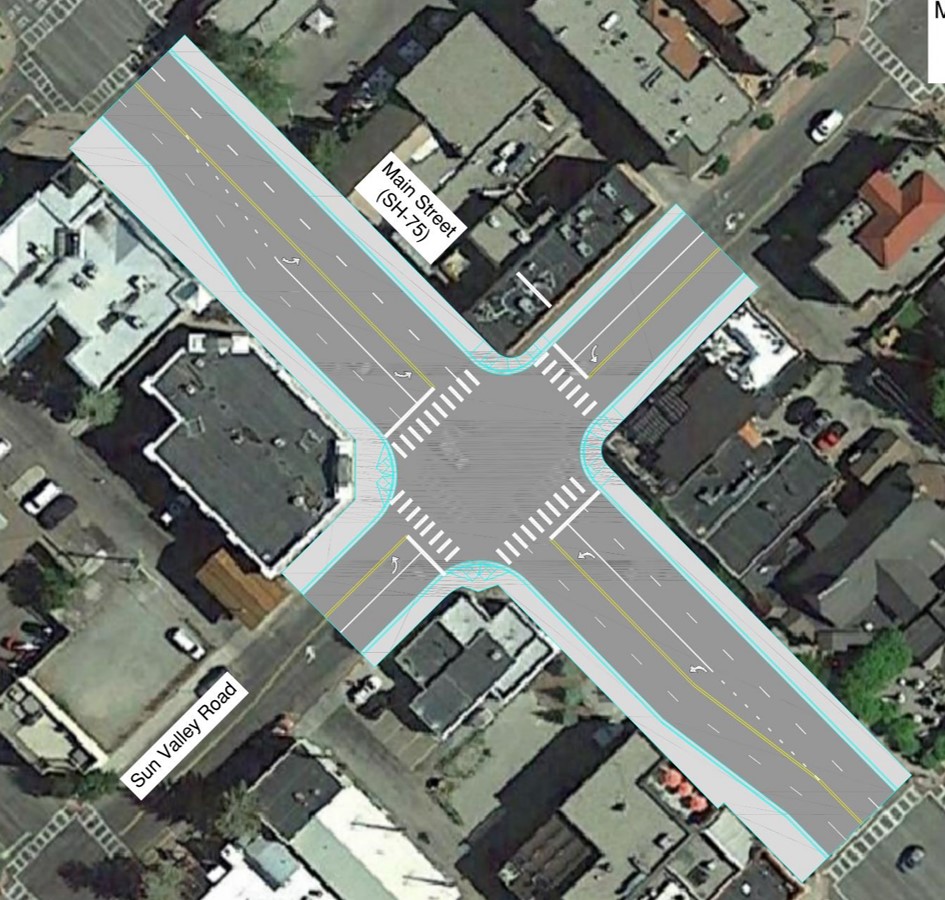 The design phase of Ketchum's Main Street rebuild project is underway. Construction from River Street to just north of 10th Street will begin on this long-overdue improvement project in the spring of 2024. The project includes essential sidewalk and pedestrian enhancements.
The primary goal is to rebuild the old roadway, enhancing the safety and aesthetic appeal of Main Street, while ensuring that the project proceeds as smoothly as possible. The city will make its best effort to minimize inconveniences to businesses, residents and visitors.
Background
In 2022, design and engineering firm HDR conducted a comprehensive Main Street Alternatives Analysis Report. This report critically examined various options for improving Main Street's vehicular and pedestrian travel and has helped to inform the project's design and scope. While options such as reconfiguration of the highway to three lanes were discussed, the results of City Council's decision is to have Main Street remain a four lane highway with the addition of a fifth, designated left turn lane at the Sun Valley Road intersection.
HDR's Main Street Alternatives Analysis Report (2022)
Public Survey on Options Presented in the Report
Council Meeting to Review Design and Public Input
KURA Meeting for Pedestrian Upgrades Participation
Issued RFQ for Design and Construction Oversight Services (June 2023)
Public Meetings to Advise on MOU Negotiations and Project Basics (June 2023)
Single Respondent to RFQ in (July 2023)
MOU and Contract Approval by Council (August 2023)
Project Goals
Rebuild Roadway
Improve travel efficiency during morning and evening rush hours

Reconfigure Sun Valley Road intersection by adding designated left turn lanes on Main Street
Upgrade traffic signals to decrease unused 'green' time
Synchronize traffic lights for better traffic flow

Improve ADA/pedestrian realm and safety at crosswalks

Install bulbouts to decrease pedestrian crossing distance at corners
Install raised intersection at Sun Valley Road for ADA accessibility and better view of pedestrians

Address the issue of 'no left turns' in Ketchum
Main Street Corridor – by intersection:
River Street to Sun Valley Road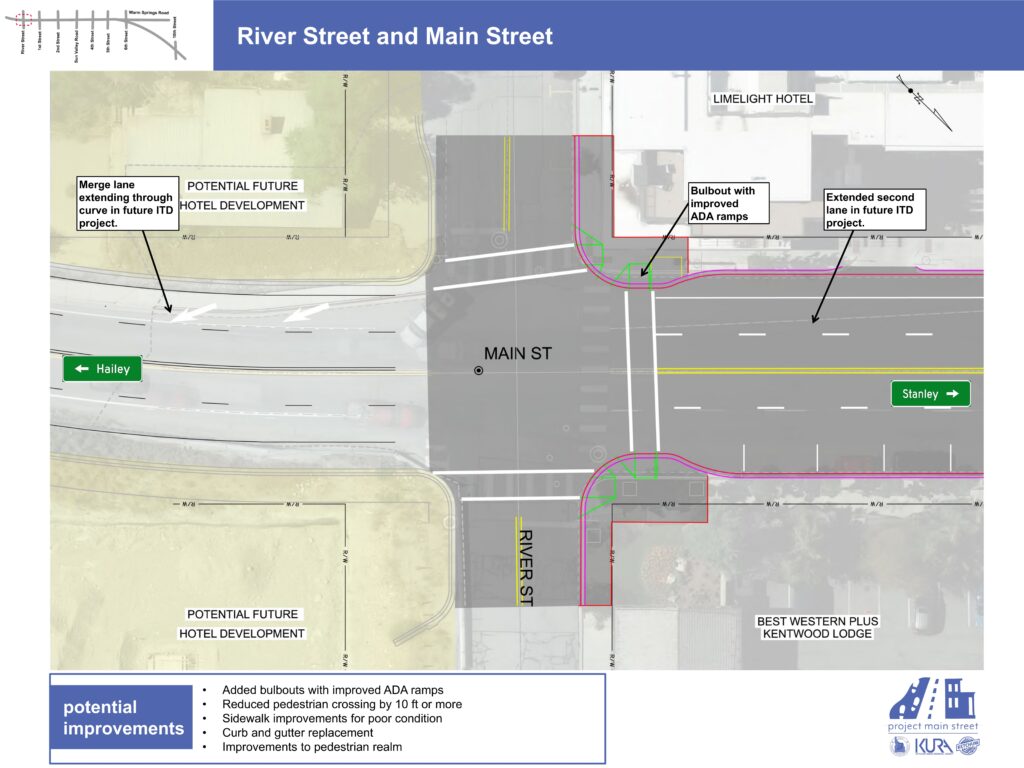 4th to 5th Street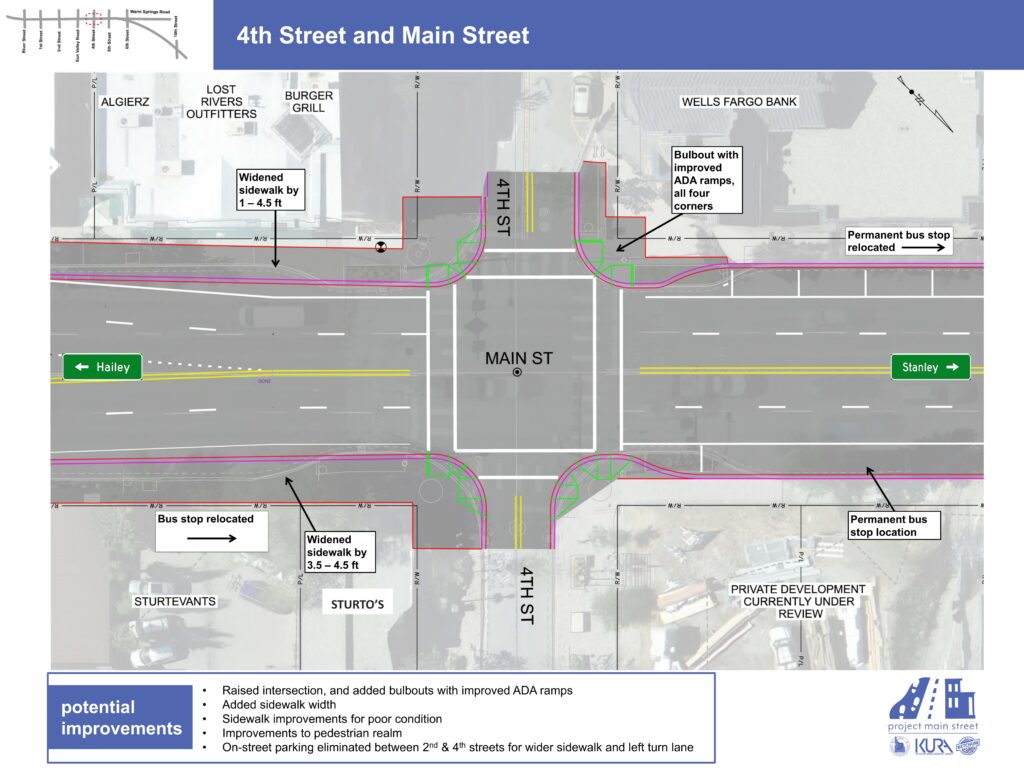 6th Street and beyond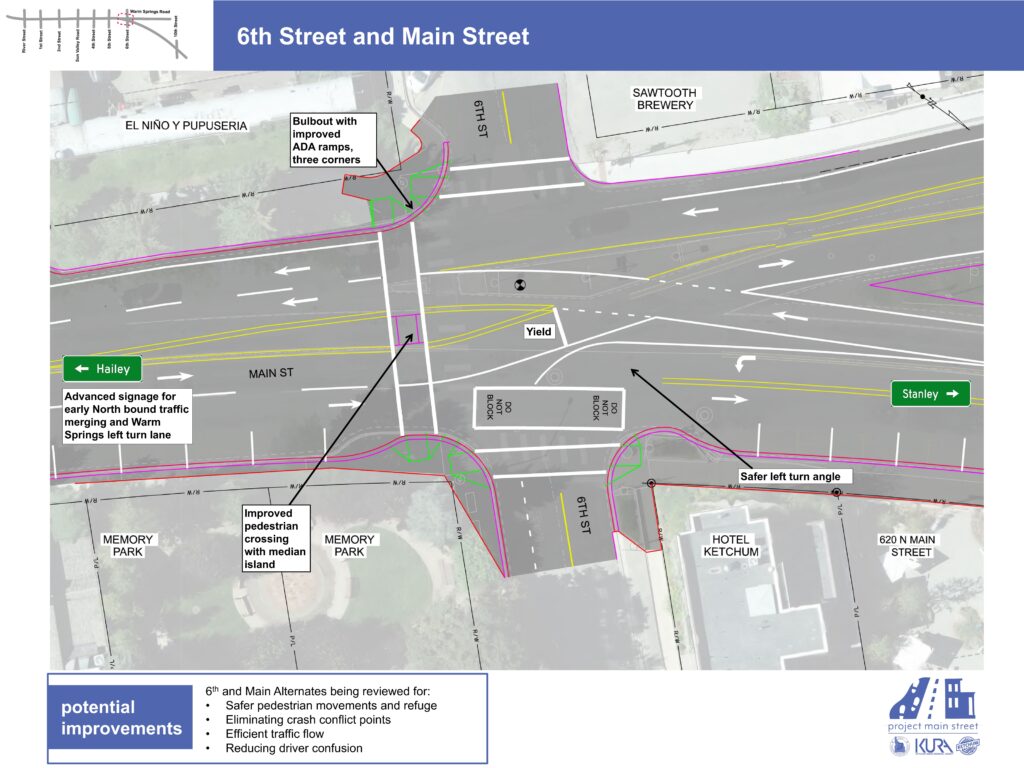 Next Steps
We will continue to provide opportunities for public feedback at upcoming meetings.
November 13, 2023 – Joint Council and KURA Meeting on 30% Design Concept and Public Feedback
January 10 & 11, 2024 – Public Presentations on Streetscape (Time/Location TBD)
Early February 2024 – Public Presentations on 90% Drawings
February/March 2024 – Bid Period
Spring 2024 – Project Start

Frequently Asked Questions:
Project Main Street
Click through the slide deck from the latest community presentation.
Events
Stay tuned for the next round of public meetings:
January TBD – Streetscape design review
February TBD – 90% Design drawings review
Questions or concerns? Email participate@ketchumidaho.org or call 208.726.7803.
Transportation Projects Update