VISION | Increase access to, create and preserve enough homes for residents at varying income levels and life stages to keep Ketchum a thriving local community.
Housing Matters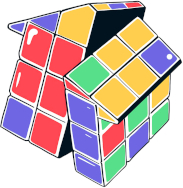 Ketchum is now implementing its first Housing Action Plan as adopted on May 9, 2022.
This community-designed and -driven plan takes a holistic approach to address the housing crisis in Ketchum and Blaine County. In May 2023, voters passed a ballot measure for a proportion of Local Option Tax Funds to be devoted to housing, which will bring in an anticipated $1.4 million in FY2024.
Year One Progress:
21 community homes in Ketchum constructed, preserved, or converted
148 community homes in progress in Ketchum (70 under construction, 78 under review)
Directly assisted 85 households & increased support for an additional 260 households facing displacement, countywide
Housing team raised $1.7 million in funding for housing efforts, countywide
YEAR-1 ACTIONS
Research – including a scan of best practices and comparable communities and community input – resulted in five comprehensive goals and 280 ideas that were filtered for immediate feasibility and impact. Our goals and strategies for addressing the complex housing crisis are comprehensive.
Goal 1 | Produce + preserve housing
Develop new and preservation pipelines
Create ownership and preservation program
Begin master planning on publicly owned lands
Incentivize conversion of vacant/seasonal/short-term rentals to long-term rentals
Increase development and occupation of Accessory Dwelling Units (ADUs)
Continue to support Bluebird Village development.
Goal 2 | Update policy to promote housing
Update code and process
Propose tenant displacement and local discrimination ordinances
Adopt interim ordinance to increase housing supply and require no net loss of units.
Goal 3 | Expand + improve services to create housing stability
Provide displacement support
Train case workers on fair housing and landlord-tenant law, and bring in a tenant advocate
Create a housing navigation system
Coordinate supportive services
Goal 4 | Expand + leverage resources
Create a database of philanthropic, state, and federal housing resources, write grants
Coordinate philanthropic efforts and offer employer-sponsored options
Goal 5 | Inform, engage + collaborate
Update Housing Action Plan annually
Launch county-wide coordination process with other jurisdictions and implementation partners
Initiate bi-monthly check-ins with comparable ski area housing staff
HOUSING ACTION PLAN | 2022-2023
The City of Ketchum developed the Housing Action Plan based on relevant housing needs data, community input, and guidance from a Task Force comprised of a cross-section of community members. The Housing Action Plan is also built on the understanding that no single organization or jurisdiction can solve the housing challenge. The Action Plan is also built on the belief that solving community housing issues requires a multifaceted approach. No single solution offers the silver bullet to solve all the housing issues and there is simply no way to build, re-zone or buy our way out of the problem.
Foundational to the Housing Action Plan is the tenet that through innovation, coordination, and tenacity, we can together strengthen our community by securing homes for our families and workforce.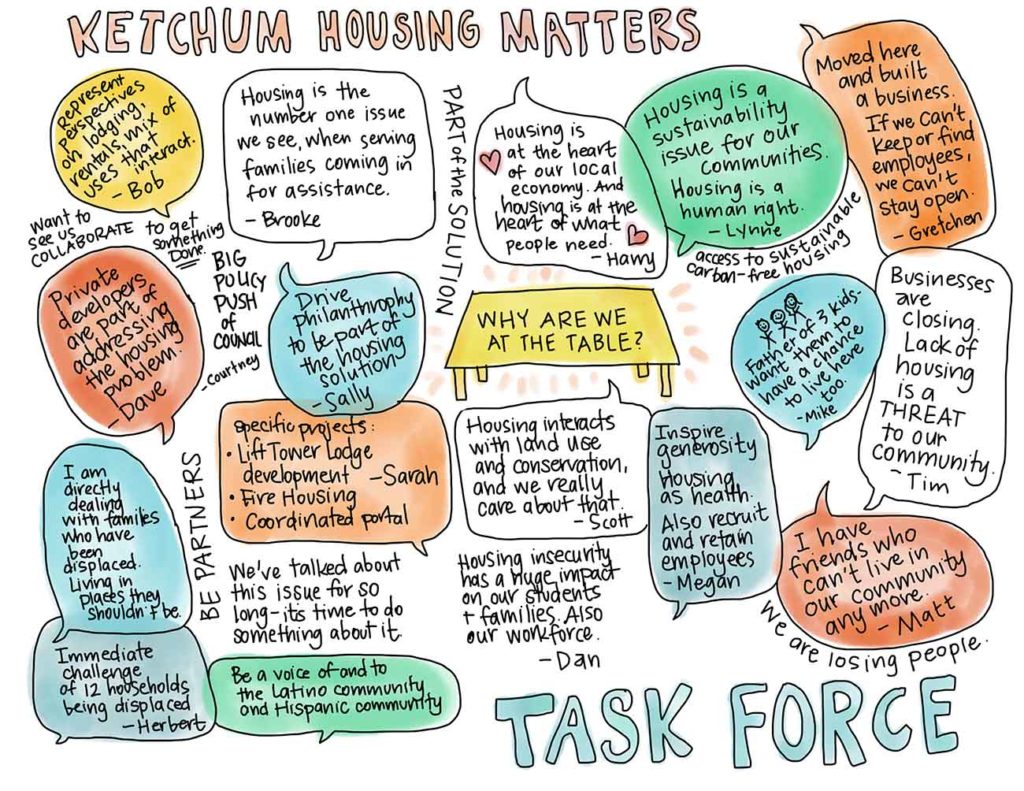 CONTEXT
Development of the Housing Action Plan included three in-depth periods of public engagement, including three Task Force meetings. A needs assessment was also conducted, primarily of census data and relevant local analyses.
---
---
Blaine County Housing Survey Results 2023
Thank you for taking the time to fill out this year's Blaine County housing survey. Your input is extremely important since it helps to inform housing actions countywide! 
Donate to the Housing Trust
Your tax deductible donations will go directly to the Housing Trust and used for future developments and programs.
Housing Matters Newsletter
The monthly 'Housing Matters' newsletter provides updates organized via the five defined goals of the Housing Action Plan.
Upcoming Events
Stay tuned for upcoming events.
Recurring events:
Recent Events
Learning from Peer Communities: Housing Lessons and Opportunities in collaboration with The Community Library and the Spur Community Foundation
Summit County, Colorado's Housing Director, Jason Dietz. View the recording here.
Park City, Utah's Housing Development Manager, Jason Glidden. Presentation online here.
Jackson, Wyoming's Housing Director, April Norton. Access the recording here.
Housing 101: Guest Speaker, Shellan Rodriguez speaks to the Housing Implementation Partners on August 31, recording here.
Comparative information is available from these events for Summit County and for Park City.