More than a 'dog park' – the Warm Springs Preserve forever belongs to the community that ensured its protection.
Warm Springs Preserve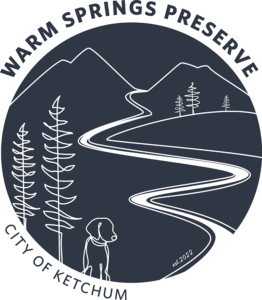 Thanks to overwhelming community support, the City of Ketchum has purchased the beloved Warm Springs Preserve – 65 acres of open space for the community to enjoy in perpetuity.
Priorities for the Preserve include off-leash dog access, creek and habitat restoration, new water-conscious irrigation system, walking trails, informal gatherings and activities, Nordic ski and snowshoe trails, and public restrooms. Development, organized sports and reserved private or commercial events would be restricted.
We anticipate the following timeline for the Master Plan process:
May 2022 – retain design team for Master Plan
June 21, 2022 – public launch event at Warm Springs Preserve
Summer/Fall 2022 – conduct public engagement opportunities; master plan completed
Implement the Master Plan in phases (funding dependent)

Phase I: 2023 – donor recognition elements (donor wall, signage, benches)
Phase II: 2023 – bathroom/maintenance building, irrigation and modest revegetation
Phase III: TBD – trail, flood/stream restoration
Frequently Asked Questions
Upcoming Events
The chosen Master Planning firm is coming to town for a site visit. Let them know what you love about the Preserve prior to their arrival – take the survey!
Support the Preserve!
There is still time to participate in the campaign. Your tax deductible donations will go directly to the Warm Springs Preserve Fund and used for future enhancements. Donors of $1K or more will be recognized on the donor wall.
Click here to donate online via e-check.
A credit card portal will be added soon.
Checks made to the 'City of Ketchum' with 'Warm Springs Preserve Fund' in the memo should be mailed to PO Box 2315 in Ketchum, ID 83340.
Timeline
Property Acquisition
April 14
Master Planning process begins
May